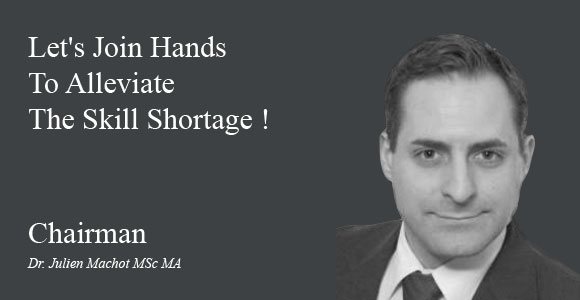 ISDC have set the platform to share the responsibility of developing the future skills with the services globally, it is well positioned to meet the increasing demand for skill development and professional education across the globe. We are happy to solicit likeminded edupreneurs to join hands with us in fulfilling the nations' responsibility to the young generation.
A Dynamic Global Education & Skill Development Company with a Vision of Skills for Tomorrow. We are very Innovative and Aggressive to ensure Sustainable Growth for Inculcating Future Skills.
Our Education Network & Portfolio
---

IRTEF assesses the quality of Research & Teaching in higher education providers and differentiates quality over and above the baseline set by quality assurance.

An Academy focuses on building & developing Entrepreneurial Skills.

A Channel of Learning Solutions.

An International Centre Supports Corporate Research & Development.

International Bachelor Degrees based on Vocational Education.

An Academy providing career-focused training in Healthcare Industry.

Fully-fledged Awarding Organization for Next Generation Qualifications.

An ISDC Framework for Developing Customized Qualifications.

Accreditation Service to the University Degrees.

Service to the Universities to engage the Alumni by Continuing Education.

Skilling & Vocational Training Solutions and Partnerships.